Fairview Presbyterian Church Cemetery

9/29/2007
Moon Phase:
Waning Gibbous, 91% full
Investigation Duration: 1.5 Hours
Solar X-Rays: Normal
Geomagnetic Field: Quiet
Humidity: 37%

Temperature: 62 F
Investigation Team
Shelley, Joey, Amanda & Jesse (junior in training)

Equipment used

1 Sony Handycam ccd-trv138 w/nightview w/IR extender light
1 Cell Sensor EMF meter
1 KII EMF Meter w/dime inserted into button slot

1 Olympus Stylus 700 Digital Still Camera
1 Nikon Digital Still Camera
2 Infrared Non-contact Thermometers
Dowsing Rods
1 Olympus DS-30 Digital Voice Recorder
1 Olympus microcassette recorder
Brief History
Fairview Presbyterian Church was established in the Fall of 1786 and is the oldest Presbyterian Church in Greenville County, South Carolina. The church was named "Fairview" in honor of the old gray stone church in Antrim County, Ireland, from which its founders came to America in 1773.

Three Peden brothers, John, Samuel, and David Peden, established the church with their nephew, James Alexander, and good friend, James Nesbit. They originally built a small log house of worship at this place. The land was granted in lieu of payment to the soldiers of the Revolutionary War.

The present building is the fourth one, and was completed in 1858. The square columns of the portico contain brick from the previous sanctuary on this location. The building is on the National Register of Historical Places, being considered a "fine example of the vernacular classic revival widely used in the deep South until 1865" (Clemson University Department of Architecture).

On these grounds in 1861 a group of men gathered to form the Bozeman Guard which marched to the defense of the Confederate States, joining with General Wade Hampton in Columbia, South Carolina.

In the rock walled cemetery are buried several Revolutionary War soldiers, as well as forty-six Confederate soldiers. The oldest marked grave in the cemetery is that of Elizabeth Alexander, 1797.
Walk Around

We began the evening by doing a walk around of the entire site. Checking gravestone dates, getting base readings and looking for anything that may stand out later. We found that many of the graves were of children, most under age 3, which was not unusual for the time period. Base readings were pretty much flat on both EMF meters for the entire walk around. We took several photos to compare to later if needed and also for reference.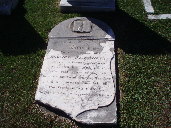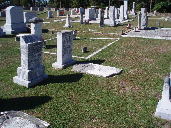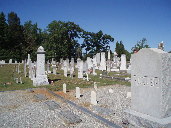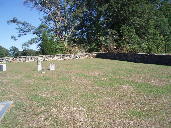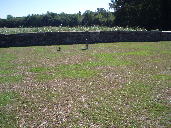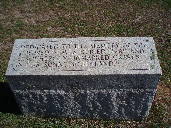 Investigation
As well as filming using the camcorder, we took temperature and EMF readings and still digital photographs in all areas of the cemetery. There were no unusual temperature or EMF readings throughout the walk around. Amanda had a very strange experience by the grave marker of Edward Flannigan. On passing by the grave she felt a sudden feeling of dizziness, breathlessness and felt as if something was trying to hold on to her. He seemed to keep pulling her back to that location. By the end of the investigation, Edward's energy had disappeared.
Shelley felt someone following her throughout the whole time we were at the cemetery. During the walk around and the investigation. She felt that who or whatever was following her was just very curious about us being there. She also saw a shadow move against one of the gravestones and had Amanda take a photo. There is an orb in that photo in the exact location where Shelley saw the shadow. She also found a very cold spot, confirmed by Amanda, and someone touched her around a grave marked James Dunbar May 1st 1791-Sept 26th, 1876. His gravestone says that he had no known living relatives at the time and he was a long time good standing member in the church. She will be doing further research on him.
Analysis

EVPs - None, probably due to noise interference with lots of passing cars. Unusual because the road is not normally that used. Comment was made that there was a party we weren't invited to.. :)
Video - Nothing turned up on our Camcorder. We had a couple orbs, but nothing that we couldn't pass off as a bug or pollen, so nothing noteworthy on video.
Photos - Tons of orbs in all the night photos. Probably over 1/2 are pollen & bugs. Quite a few energy orbs were also caught in photos. Click on the photos to enlarge them.